SO-RI
RISO print studio &
RISO publishing studio
---
SO-RI webshop
---
Free pick up in Antwerp (Berchem) is always available, you can even use
Payconiq
or
cash
to pay. Just send me a
message
!
Currently the only payment methods on the website are
credit cards
or
PayPal
.
If you want, you can also pay by
bank transfer
, just send me a
message
and we'll take care of it.
Trying to ship once a week on Mondays/Tuesdays.
Choose the right shipping option for your country. (The webshop doesn't recognize the right shipping options automatically, sadly.)
Shipping as a
letter
, will result in A3 prints being folded, and is limited to the size and thickness of the publications you order. For the letter option there is no tracking number.
If in doubt send me a
message
. If I am ever in doubt about your order/shipping method, I will send you a message as well.
50% goes to the artists,
50% is going to building up the studio and paying myself a small wage.
Unless mentioned otherwise.

Thanks for supporting the artists and the studio.

---
View cart
---
publications
published by SO-RI and printed at SO-RI

The Grey Book
- Annie Naskyd
SO-RI #005
[Youtube]
Cloudscapes
- Inês Martins
SO-RI #004
[Youtube]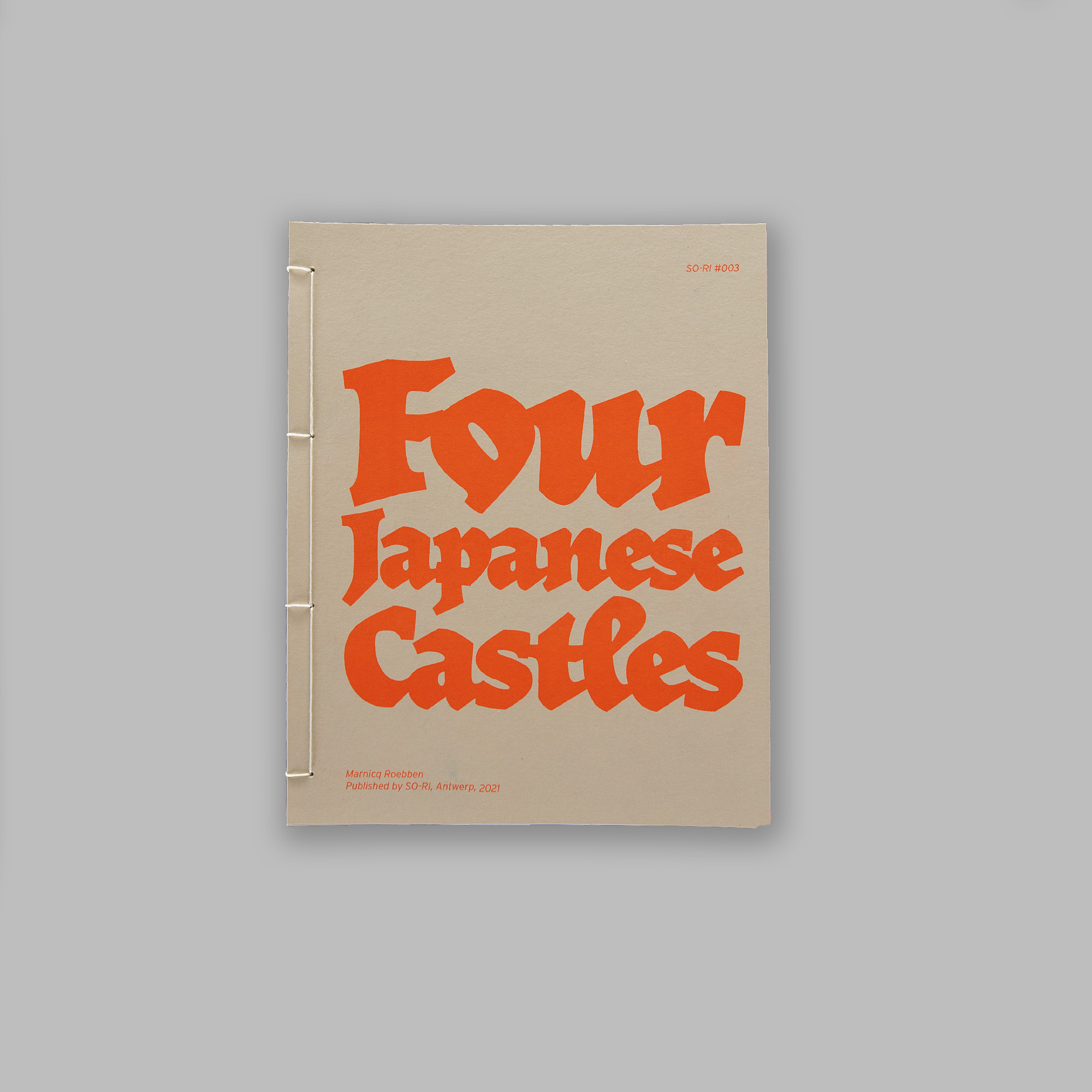 Four Japanese Castles

- Marnicq Roebben
SO-RI #003
Waterlijn

- Bastiaan van Aarle
SO-RI #002
76 Collages
- Sarah Stone
SO-RI #001
---
zines
not published by SO-RI, but printed at SO-RI
70% goes to the artist, 30% goes to SO-RI




Nakagin Capsule
- Marnicq Roebben
Poster zine, commemorating the iconic Nakagin Capsule tower, which was designed by Kisho Kurokawa.
[Youtube]
Product Placement
- Brecht Vanzieleghem
An illustrated zine, by Brecht Vanzieleghem. Printed in Purple on a green-white paper stock.
Double Happiness
- Emerald Liu
A poetic chapbook by Emerald Liu. Published by
Birdbeakbeast Press
, but printed by SO-RI.
Dwaal
- Kim Segers
A dreamy, photographic zine, that reads like a diary. Printed in Fluor. Orange, Green and Purple.
The Sculpture House
- Marnicq Roebben
The first zine we ever printed. Showing the Sculpture House, a wonderful piece of architecture near Liège (BE).
---
cards and posters


Sunset
- Juliane Noll
[A4 RISO print, 200g/sm paper]
Lazy cat
- Sirien Salameh
[A4 RISO print, 200g/sm paper]
Skull and worms
- Marnicq Roebben
[A6 RISO GOCCO print, 250g/sm paper]
Dancing with frogs
- Hanne Holvoet
[A3 RISO print, 120 g/sm paper]
Dancing with my dog
- Juliane Noll
[A3 RISO print, 120 g/sm paper]
Lockdown turtle
- Flup Marinus
[Signed A3 RISO print in edition of 100, 120 g/sm paper]
---