SO-RI
RISO print studio &
RISO publishing studio
---
SO-RI print studio
---
As a print studio we are also available for hire. You can visit the studio after making an appointment.

I'd love you to be here, to experience the printing process and check on the paper and print quality while we're at it. Of course it's also possible to send me your files and have me do the printing remotely.
The print studio is located in my small appartment. We don't have an open shop front, so contact me before visiting.

Down below you will find tons of handy information, like a price calculator, a booking app, some info around RISO, our inks, our paper stocks, file preparation and more.
---
what is RISO?
what?

RISO is a Japanese brand of duplicators and printers. When people talk about risographs, they usually refer to the duplicator series of printers. They are quick, easy and cheap to print from and perfect for mass printing.
eco-friendly

The ink in the RISO machine is made from the byproducts of rice farming. The machine itself doesn't have a heating element, which makes it extremely energy efficient.

Both of these aspects make the RISO technique a rather eco-friendly option for your print work.
multiples

Because of the stencil-based nature of the RISO printing process, it is well suited to print multiples of the same print.

The cost of the Master sheets would not really make sense to print a single copy of anything.

SO-RI suggests printing posters, flyers, zines and artist editions for the RISO technique to be an affordable and charming way to present your work or advertise your company, organisation or event.
imperfections
RISO printing is known for its lo-fi charm, so be sure to expect a lot of small and large imperfections. Registration marks will not consistently line up. Smudge marks from handling the paper quite often appear. Roller marks from the machine and ink residue from other inked paper might be visible. Most smudges and ink spots can simply be rubbed away with a rubber gum, just make sure not to rub over any inked areas. Try to avoid large inked areas in your design to avoid a lot of smudges.

If you're not willing to deal with imperfections and misalignments, RISO printing might not be the thing for you.
---
how to deliver/prepare files
Before we start off: remember I am here to help you. Especially in your first couple of times printing with the RISO I will explain everything in detail. Don't worry about asking too much questions, I am more than happy to help. I will assist you in preparing your files, explain everything in detail and I will even give advise on your choice of inks.
Let's start off with some basics. Remember that the machine:

- prints one colour layer at a time.

- works with 1 black and white file per colour layer (where darker means more intense colour).

- the inks are semitranslucent, this means that if you print one over the other they will start to mix instead of cover each other. This gives you way more colour options by mixing, but if you want pure yellow, make sure there's no other colour underneath.
file types
I accept a variety of file types. You can deliver me:

- clearly labeled black and white layers in 1 PSD file.

- clearly named JPG, PNG or TIFF files.

- clearly labeled PDF files (if each page is a different colour layer, please mention it clearly in the file name or in your e-mail).

- InDesign packages, if you're working on a zine.
size

Make sure your files are sized properly. The machine always prints on A3 sized paper using an A3 sized master.

So if you want to print an A5 size card, don't waste paper and fit 4 on 1 sheet of A3 paper.

If you want to print a 25x35cm print, place it on an A3 sized canvas.

For zines, just make sure your page size is as you want it to be.
examples

Down here you can find a wonderfully beautiful example of
Juliane Noll
's
Sunset
print. [It's also for sale in our webshop!]
The black and white images are what we sent to the RISO, the colour layers are the separate ink layers the RISO gave us.
The fourth image is all the inks combined into one image.
Yellow layer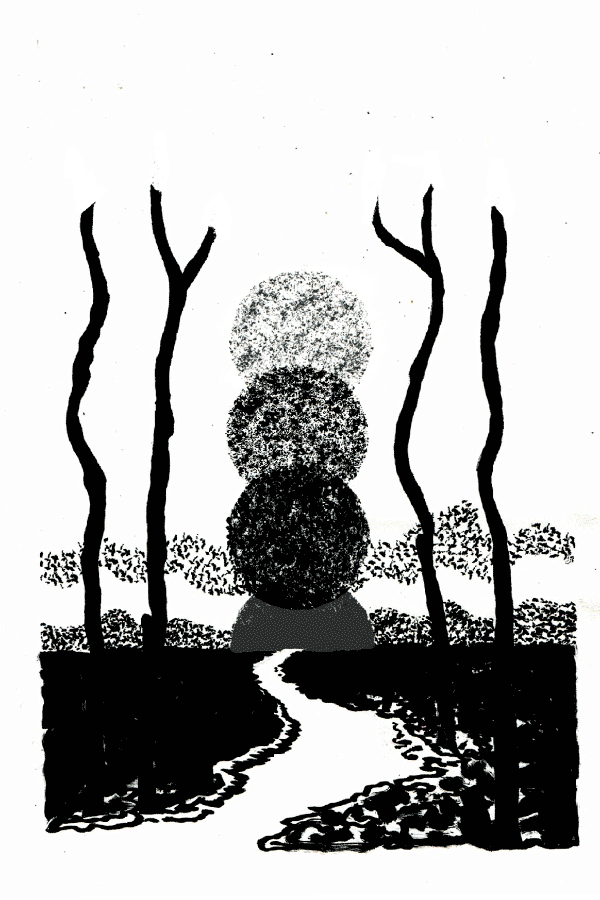 Fluorescent Pink layer
Blue layer
Combined layers / end result.
[Thank you, Juliane Noll, for letting me use your print design]
---
colours and inks
colours
SO-RI boasts a small collection of colours. We have Black, Purple, Blue, Green, Yellow, Fluorescent Orange, Bright Red and Fluorescent Pink inks.
Note that these are not your typical CMYK colours and that RISO requires a completely different mindset to work with.
To figure out the workflow of prepping your files for graphical work, illustrations or photography, check out the "
how to deliver/prepare files
" page.
hex codes
Black (#000000)
Purple (#765ba7)
Blue (#0078bf)
Green (#00a95c)
Yellow (#ffe800)
Fluorescent Orange (#ff7477)
Bright Red (#f15060)
Fluorescent Pink (#ff48b0)
Use these hex codes in your favourite software to approximate the RISO ink colours. Screens can't reproduce all colours (it's impossible to show fluorescent colours on a screen).
colour experiments

While it's obvious and easy to look for a CMYK approximate and use Blue, Fluor. Pink, Yellow and Black for some realistic colours, don't be afraid to experiment with some different colours.
On the "
prep your files
" page you will find more info on colour separation.
While you might be able to come close to true CMYK colours; exact colour reproductions should never be your goal when using the RISO print technique. Go for bold colours and use the variety of colours to your advantage.
Extreme close-up of a Blue, Fluor. Pink and Green print.
---
paper stock
which paper can you use?
You can always bring your own paper stocks to me and check if it prints. There's no guarantee that it will work and bringing your own paper is always at your own risk.

Most papers work that are:
- uncoated
- not too textured and not too smooth
- preferably between 90gsm and 200gsm, sometimes you can be lucky between 70gsm and 230gsm

papers in our stock
While we are always open for suggestions we try to stock several types of paper. We can also always order any paper from the MetaPaper catalogue.

You may find scans of some of our papers down below. [still under construction]
---