SO-RI
RISO print studio &
RISO publishing studio
---
how to deliver/prepare files
Before we start off: remember I am here to help you. Especially in your first couple of times printing with the RISO I will explain everything in detail. Don't worry about asking too much questions, I am more than happy to help. I will assist you in preparing your files, explain everything in detail and I will even give advise on your choice of inks.
Let's start off with some basics. Remember that the machine:

- prints one colour layer at a time.

- works with 1 black and white file per colour layer (where darker means more intense colour).

- the inks are semitranslucent, this means that if you print one over the other they will start to mix instead of cover each other. This gives you way more colour options by mixing, but if you want pure yellow, make sure there's no other colour underneath.
file types
I accept a variety of file types. You can deliver me:

- clearly labeled black and white layers in 1 PSD file.

- clearly named JPG, PNG or TIFF files.

- clearly labeled PDF files (if each page is a different colour layer, please mention it clearly in the file name or in your e-mail).

- InDesign packages, if you're working on a zine.
size

Make sure your files are sized properly. The machine always prints on A3 sized paper using an A3 sized master.

So if you want to print an A5 size card, don't waste paper and fit 4 on 1 sheet of A3 paper.

If you want to print a 25x35cm print, place it on an A3 sized canvas.

For zines, just make sure your page size is as you want it to be.
examples

Down here you can find a wonderfully beautiful example of
Juliane Noll
's
Sunset
print. [It's also for sale in our webshop!]
The black and white images are what we sent to the RISO, the colour layers are the separate ink layers the RISO gave us.
The fourth image is all the inks combined into one image.
Yellow layer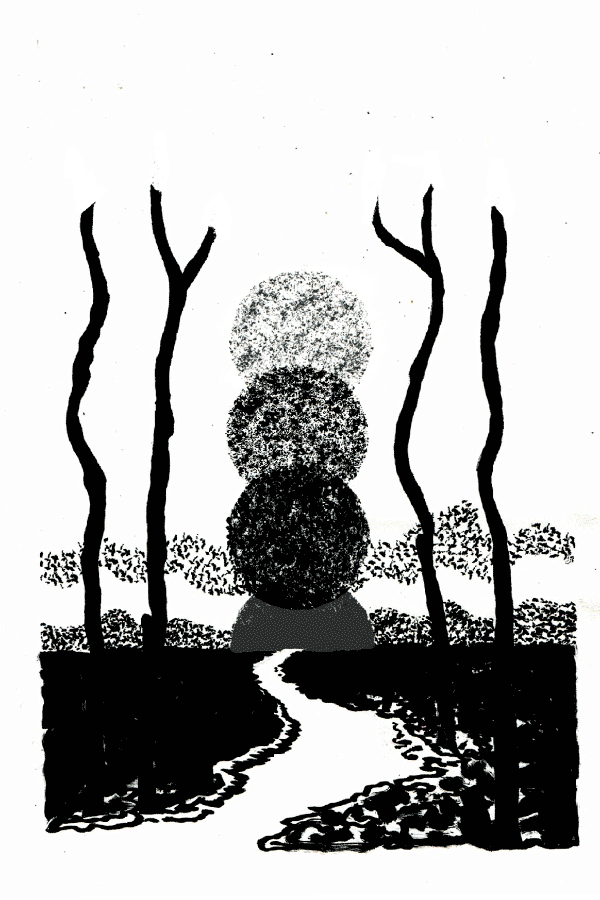 Fluorescent Pink layer
Blue layer
Combined layers / end result.
[Thank you, Juliane Noll, for letting me use your print design]
---